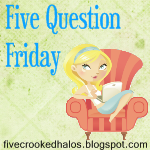 1. Who is the better cook, you or your spouse?
Him. By all means. I can mess up hotdogs. I can bake well, but not cook. Funny I know, but the truth. This caused many disagreements when we first got married, but we worked it all out and now he cooks. I kinda like it that way.
2. How often do you talk to your mom?
At least once a week. Sometimes more. She does read my blog, so Hi Mom!
3. Are you adventurous in the kitchen or stick to the recipe?
See number 1. I am not the best cook so I don't try new things.
4. Is your second toe longer than your big toe?
I had to look. No, it is slightly shorter than my big toe.
5. Do you dress up for Halloween? (Bonus question: What will you be this year?)
Nope, I don't dress up. Never have.
Head over to Mama M's to see what others have to say today.